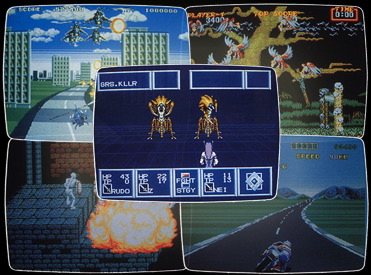 Welcome to FORS YARD, a more or less chronological account of the software released for the Sega Genesis system in the North American market.
I have attempted, as much as possible, to put the games in their proper historical context by featuring their original print ads, as well as comments and criticisms made by contemporary reviewers, "industry types," and... uh, me. Quotes were selected based upon how insightful, informative, amusing, or downright ridiculous they were. Enjoy!
Last Update: April 19, 2012
As Apple will be shutting down their iDisk service in June, I have had to move the site to a new location. If you're reading this, you're in the right spot!
Don't forget to bookmark the new URL: www.forsyard.com
There aren't any major updates planned for the immediate future, but I've been doing a bit of tweaking here and there (like re-encoding the movies on the site) and will probably continue to for a while. In a move as big as this, there are bound to be broken links, etc., so feel free to let me know if something doesn't work.
Thanks for stopping by!
Update: February 18, 2012
For those who might be interested, I'm now on Twitter. Questions, comments, etc. are welcome.
Update: May 8, 2008
I've made a few corrections to the 1994 section and fixed a few typos today. Thanks once again to BelPowerslave for pointing most of these out!
Special Thanks To:
BelPowerslave, Gears, benstylus, Scott H

Copyright © 2012 Greg Gillis
This is a fan website only. It is not affiliated with Sega or any other companies named herein.